Художня парадигма українського мистецтва першої половини ХХ сторіччя: від експерименту до конвенціоналізму
Ключові слова:
художній експеримент, українське мистецтво, модернізм, соціалістичний реалізм, конвенціоналізму
Анотація
Розглянуто принципи моделювання художнього простору у живопису українських художників. Доведено, що за умов вільного експерименту активно реалізуються різні творчі інтенції. Показано, що тоталітарна система формувала конвенціональне мистецтво у рамках соціалістичного реалізму.
Посилання
Alva Noë. Experience and Experiment in Art // Journal of Consciousness Studies, 7, No. 8–9, 2000, p. 123–35.
Asyeyeva N. Istoriya pobutuvannya ponyattya «impresionizm» na tereni vitchyznyanoyi xudozhnoyi kultury [Aseyeva N. History of the existence of the concept of "impressionism" in the field of domestic artistic culture] // Impresionizm i Ukrayina: Albom [Impressionism and Ukraine: Album] / avt. proektu A. Melnyk, avt. statej N. Asyeyeva, O. Denysenko, O. Zhbankova. K.: PF «Galereya», 2011. S. 9–14.
Afasizhev M. Funktsii eksperimenta v razlichnyih vidah iskusstva proshlogo i pervoy polovine XX veka [Afasizhev M. Functions of the experiment in various types of art of the past and the first half of the twentieth century] // Eksperimentalnoe iskusstvo: Vliyanie teorii na hudozhestvennoe tvorchestvo: sb. st. [Experimental art: The influence of theory on artistic creation: collection of articles] / pod red. O. Lichchiardello, S. Lombardo, V. Petrova. M.: GII, 2011. S. 80–91.
Dubovyk O. Shkola Mykoly Murashka u dokumentax CzDAMLM Ukrayiny [Dubovik O. School of Nicholas Murashka in the documents of Central State Archive-Museum of Literature and Art of Ukraine] // Arxivy Ukrayiny [Archives of Ukraine]. 2013. No 6. S. 130–141.
Kravchenko Ya. Shkola Myxajla Bojchuka. Trydcyat sim imen [Kravchenko Ya. School of Mikhail Boychuk. Thirty seven names]. K.: Majsternya Knygy, Oranta, 2010. 399 s.
Lagutenko O. Ukrayinska grafika pershoyi tretyny XX stolittya [Lagutenko O. Ukrainian graphics of the first third of the twentieth century]. K.: Grani-T, 2006. 240 s.
Malevych ta Ukrayina. «Vin ta ya buly ukrayinci»: Antologiya [Malevich and Ukraine. "He and I were Ukrainian": Anthology] / Uporyad. Dmytro Gorbachov. K.: SIM Studiya, 2006. 456 s.
Martyishkina T. N. Impressionisticheskoe mirovozrenie v zapadnoy kulture XIX veka: istoki, suschnost, znachenie [Martyshkina T. N. Impressionistic worldview in the Western culture of the nineteenth century: the origins, the essence, the value] / Avtoref. dis. ... kand. kulturologii [Extended abstract of the candidate's thesis]. Nizhnevartovsk, 2008. 27 s.
Melnyk A. Impresionizm i Ukrayina: Albom [Melnyk A. Impressionism and Ukraine: Album]. K.: Galereya, 2011. 238 s.
Rogotchenko O. O. Socialistychnyj realizm i totalitaryzm [Rogotchenko O. O. Socialist Realism and Totalitarianism] / Instytut problem suchasnogo mystecztva Akademiyi mystecztv Ukrayiny [Modern Art Research Institute of the National Academy of Arts of Ukraine]. K.: Feniks, 2007. 608 s.
Sokolyuk L. Grafika bojchukistiv: Monografiya [Sokolyuk L. Graphics of Boichukists: Monograph] / Ministerstvo osvity i nauky Ukrayiny, Xarkivska derzhavna akademiya dyzajnu i mystecztv [Ministry of Education and Science of Ukraine, Kharkiv State Academy of Design and Arts]. X.; Nyu-Jork: Vydavnycztvo M. P. Kocz, 2002. 224 s.
Sokolyuk L. D. K istorii hudozhestvennoy zhizni Harkova. Evolyutsiya harkovskoy hudozhestvennoy shkolyi vo vtoroy polovine XVIII — nachale XX veka: Avtoref. dis. ... kand. iskusstv. [Sokolyuk L. D. To the history of artistic life of Kharkov. Evolution of the Kharkov art school in the second half of the XVIII — the beginning of the twentieth century: Extended abstract of the candidate's thesis] / IZhSA im. I. E. Repina AH SSSR. L., 1986. 24 s.
Fedoruk O. K. Mykola Butovych: Zhyttya i tvorchist [Fedoruk O. K. Mykola Butovich: Life and creativity] / In-t mystecztvoznav., folklorystyky ta etnologiyi im. M. T. Rylskogo NAN Ukrayiny, Derzh. sluzhba kontrolyu za peremishhennyam kult. cinnostej cherez derzh. kordon Ukrayiny, Akad. mystecztv Ukrayiny. Kyyiv; Nyu-Jork: M. P. Kocz, 2002. 431 s.: il., tabl. (Seriya: «Povernuti imena»).
Florenskiy P. A. Analiz prostranstvennosti v hudozhestvenno-izobrazitelnyih proizvedeniyah [Florensky P.A. Analysis of Spatiality in Artistic and Visual Works] // Dekorativnoe iskusstvo SSSR [Decorative Art of the USSR]. 1982. No 1. S. 25–29.
Chlenova L. G. Oleksandr Murashko. Storinky zhyttya i tvorchosti [Chlenova L. G. Alexander Murashko. Pages of life and creativity]. K.: Artaniya Nova, 2004. 250 s., il.
Egiz B. Spogady pro K. K. Konstandi [Ehiz B. Reminiscences of K. K. Konstandy] / Storchaj O. Materialy do tvorchoyi biografiyi Kyriaka Kostandi [Storchay A. Materials to the creative biography of Kiriyaka Kostandy] //Studiyi mystecztvoznavchi [Art Studies Studies]. 2011. No 4. S. 130–143.
Yur M. Rytm yak styleutvoryuyuchyj chynnyk u pobudovi prostoru zhyvopysnyx tvoriv M. Bojchuka ta bojchukistiv [Yur M. Ritm as a stylistic factor in the construction of the space of paintings by M. Boychuk and Boichukists] // Mystecztvoznavstvo Ukrayiny: Zb. nauk. pr. [Art Science of Ukraine: collection of scientific works] / Redkol.: A. Chebykin (golova) ta in. K.: IPSM AMU; KDZh «Sofiya», 2009. Vyp. 10. S. 21–28.
Yur M. Transformaciya prostoru u zhyvopysu pochatku i kincya XX stolittya [Yur M. Transformation of space in the painting of the beginning and the end of the twentieth century] // Xudozhnya kultura. Aktualni problemy: Nauk. Visnyk [Art culture. Actual problems: Science Bulletin] / In-t problem suchasn. myst-va NAM Ukrayiny; Redkol.: V. Sydorenko (golova), O. Fedoruk (gol. red.), I. Bezgin ta in. K.: Ximdzhest, 2010. Vyp. 7. S. 56–65.
Yur M. V. Oleksandra Ekster i selyanske mystecztvo: dialog [Yur M. Alexander Alexandra Exterranean and peasant art: dialogue] // Muzejnyj provulok [Museum lane]. 2009. No 2 (13). S. 46–55.
Yur M. V. Rol M. F. Bilyashivskogo u zberezhenni ukrayinskoyi selyanskoyi materialnoyi kultury: kolekciya malovanogo dereva [Yur M. V. The role of M. F. Bilyashivsky in preserving the Ukrainian peasant material culture: the collection of the painted tree] // Pershi chytannya pam'yati M. F. Bilyashivskogo. Materialy naukovoyi konferenciyi 22 chervnya 2005 r. [The first reading of the memory of M. F. Bilyashivsky. Materials of the scientific conference June 22, 2005] K.: Artaniya Nova, 2006. S. 24–28.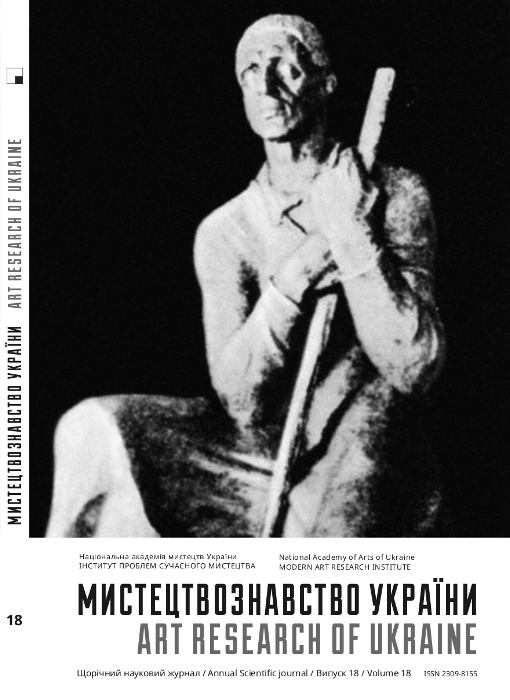 ##submission.downloads##