Образотворчість у керамічній художній промисловості України повоєнного часу
Ключові слова:
художня кераміка, фарфор, фаянс, митець
Анотація
Початок другої половини ХХ століття, примножений складнощами повоєнної ситуації, був означений тотальним ідеологічним диктатом, що заганяв у визначені рамки стереотипів художню творчість, а нетривала в часі «відлига», хоч і відкривала шлях до усвідомлення та розуміння нових культуротворчих парадигм, все ж не стала часом суттєвих змін в ідеології соцреалізму. Художня кераміка була такою галуззю творчості, яка поєднувала в собі традиції і найновіші технологічні досягнення. 1940–1960-ті роки ХХ століття були часом, коли стрімко змінювалася політична і соціокультурна ситуація. Розгляд даних питань через призму стану художньої кераміки стає актуальним і своєчасним, оскільки творчі пошуки та експерименти у царині виробництва керамічних, фарфорових та фаянсових творів вимальовують картину розвитку тогочасного декоративно-ужиткового мистецтва зокрема та загального художнього поля країни взагалі
Посилання
Annenkova L. Puti nashey keramiki [Annenkov L. Ways of our ceramics] // Dekorativnoe iskusstvo SRSR [Decorative art of the USSR]. 1983. № 6. S. 26–27.
Vystavka arxitektury kyyivskogo neo [Exhibition of architecture of the Kiev neo]. URL: http://vcrc.org.ua/виставка-архітектури-київського-нео (last accessed: 30.11.2018).
Dialog kultur: Ukrayina u svitovomu konteksti [Dialogue of Cultures: Ukraine in the World Context] // Xudozhnya osvita: zb. nauk. pracz [Art Education: сollection of scientific works]/ redkol.: I. A. Zuzyun (golov. red.), S. O. Cherepanova, N. G. Nychkalo, O. P. Rudnyczka. Lviv: Svit, 2000. Vyp. 5. 488 s.
Golubecz O. M. Lvivska keramika [Golubets O. M. Lviv Ceramics]. Kyyiv: Naukova dumka, 1991. 120 s.
Zhogol L. E. Dekorativnoe iskusstvo v sovremennom interfere [Zhogol L. Ye. Decorative art in a modern interior]. Kiyiv: Budivelnik, 1986. 200 s.
Zhogol L. Ye. Dekoratyvne mystecztvo v interyeri zhytla [Zhogol L. E. Decorative art in the interior of the dwelling]. Kyyiv: Budivelnyk. 1973. 112 s.
Zinenko T. Eksport xudozhnix keramichnyx vyrobiv u 1960–1970-x: Zdobuttya «svitovoyi slavy» chy «vykruchuvannya ruk» tradycijnomu promyslu (na prykladi Opishnyanskogo zavodu «Xudozhnij keramik» [Export of artistic ceramic products from the 1960s–1970s: Gaining «world glory» or «twisting hands» for traditional crafts (for example, Opishnia factory «Artistic ceramics»] // MIST: Mystecztvo, istoriya, suchasnist, teoriya: zb. nauk. pracz [AHMT: Art, history, modernity, theory: collection of scientific works] / IPSM NAM Ukrayiny. Kyyiv: Feniks, 2012. Vyp. 8. S. 94–111.
Istoriya ukrayinskogo mystecztva: u 6 t. [History of Ukrainian Art: In 6 volums] / golov. redkol. M. P. Bazhan; AN URSR; NDI teoriyi, ist. ta perspektyvnyx problem rad. arxitektury. Kyyiv: Golov. red. URE, 1967. T. 5: Radyanske mystecztvo 1917–1941 rokiv [Vol. 5: Soviet art of 1917–1941]. 479 s.
Kara-Vasylyeva T. V., Chegusova Z. A. Dekoratyvne mystecztvo Ukrayiny XX stolittya: u poshukax «velykogo » stylyu [Kara-Vasilieva T. V., Chegasova Z. A. Decorative art of Ukraine of the twentieth century: in search of «great» style]. Kyyiv: Lybid, 2005. 280 s.
Klymenko O. O. Narodna keramika Opishni (do problemy tradycij ta innovacij u narodnyx xudozhnix promyslax): avtoref. dys. … kand. mystecztvoznavstva: 17.00.06 [Klimenko O. Folk ceramics Opishni (to the problem of traditions and innovations in folk arts crafts: Extended abstract of the candidate's thesis: 17.00.06] /Lvivska akademiya mystecztv. L.: 1995. 18 s.
Korus O. Peredmova do proektu «4 stany glyny: keramika Vladyslava Shherbyny» [Korus O. Preface to the project «4 clay conditions: ceramics of Vladislav Shcherbina»]. Kyyiv: NMZ «Sofiya Kyyivska», 2015.
Krutenko N. Z dosvidu roboty z narodnymy majstramy v laboratoriyi arxitekturno-xudozhnoyi keramiky KyyivZNDIEPu [Krutenko N. From the experience of working with folk masters in the laboratory of architectural and artistic ceramics KievZNDIEP] // Ukrayinske goncharstvo. Nacionalnyj kulturologichnyj shhorichnyk: nauk. zb. za mynuli lita [Ukrainian Pottery. National culturological yearbook: scientific collection for the past years]. Kyyiv: Molod; Opishne: Ukrayinske narodoznavstvo, 1993. Kn. 1. S. 341–344.
Kuma H. U lvovskih keramistov [Kuma Kh. In Lviv ceramists] // Dekorativnoe iskusstvo SSSR [Decorative Art of the USSR]. 1967. № 9. S. 42–44.
Lashhuk Yu. F. Ukraynska narodna keramika XIX–XX st.: avtoref. dys. … dokt. mystecztvoznavstva [Lashchuk Yu. F. Ukrainian folk ceramics of the XIX–XX centuries: Extended abstract of the doctor's thesis]. Kyyiv, 1971. 46 s.
Poshyvajlo O. Goncharstvo yak indykator etnosuspilnyx priorytetiv [Poshyvaylo O. Potting as an indicator of ethno-social priorities] // Ukrayinskyj keramologichnyj zhurnal [Ukrainian Ceramological Journal]. 2004. № 1. S. 7–14.
Poshyvajlo O. Etnografiya ukrayinskogo goncharstva: Livoberezhna Ukrayina [Poshyvailo O. Ethnography of Ukrainian Pottery: Left-Bank Ukraine]. Kyyiv: Molod, 1993. 404 s.
Rogotchenko O. Petro Petrovych Pechornyj: kat. vyst. tvoriv [Rogotchenko O. Petro Pechorny: exhibition catalog.]. Kyyiv: Poligrafknyga, 1988. 64 s.
«Fond» Spilky xudozhnykiv Ukrayiny [«Foundation» of the Union of Artists of Ukraine], f. 487, op. 1; od. zb. 1099; 1944–1980 rr.
Xanko V. Dux porcelyany Ivana Viczka [Hanko V. The Spirit of Porcelain by Ivan Vitsky]// Obrazotvorche mystecztvo [Fine Arts]. 2000. № 1/2. S. 92–93.
Shkolna O. V. Farfor-fayans Ukrayiny XX stolittya: infrastruktura galuzi, prom. ta ekonom. polityka, organizacijno-tvorchi procesy: u 2 kn. [Shkolna O. V. Porcelain faience of Ukraine of the twentieth century: industry infrastructure, industrial and economic policy, organizational and creative processes: In 2 books] Kyyiv: Vydavnycztvo «Den Pechaty», 2013. B. 2: Istoriya vyrobnycztv (ser. XVII — poch. XXI st.): tabl., reyestr imen providnyx majstriv galuzi [B. 2: History of productions (mid XVII — early XXI century): Tables, register of names of leading masters of the industry]. 400 s.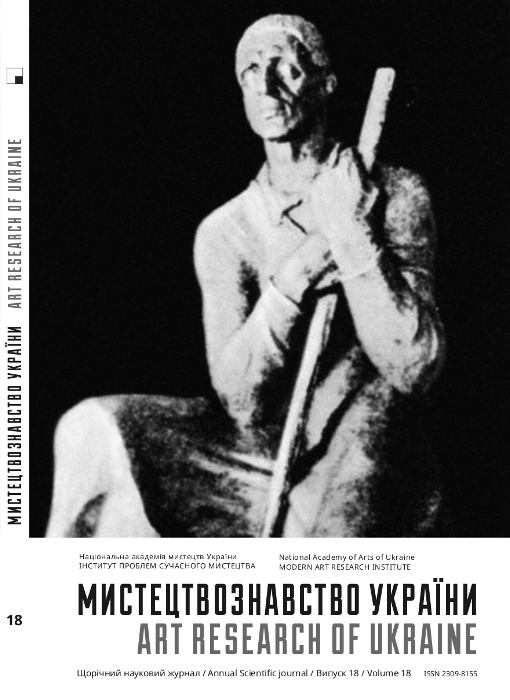 ##submission.downloads##