Гепенінг і його місце на мапі термінологічної системи акціонізму
Ключові слова:
гепенінг, художній акціонізм, термінологія сучасного мистецтва, морфологія гепенінгу, естетика гепенінгу, гепенінг у сучасному мистецтві України
Анотація
У статті розглянута проблематика видовищності сучасної культури, мистецький і художній акціонізми, їхні особливості, спільні риси і відмінності. У цій роботі поточнена термінологія, запропонована ієрархія і структура відповідних термінів, виходячи з традицій і методів досліджень саме візуального мистецтва. Розглянуті особливості якостей художнього образу в акціонізмі.
Особлива увага приділена гепенінгу як важливому прояву художнього акціонізму. Висвітлені його особливості і відмінності від інших проявів акціонізму, перш за все перформансу. Підкреслена залежність акціонізму загалом і гепенінгу зокрема від конкретного історичного і соціокультурного досвіду певного суспільства. Досліджена притаманна гепенінгу поетика, естетика і арсенал художніх засобів.
Посилання
Avdeev A. D. Proishozhdenie teatra. Elementyi teatra v pervobyitnoobschinnom stroe [Avdeev A. The origin of the theater. Elements of the theater in the primitive communal system]. Leningrad; Moskva: Iskusstvo, 1959. 268 c.
Bazhanov L., Turchin V. Za granyu iskusstva [Bazhanov L., Turchin V. Beyond the Edge of Art] // Dekorativnoe iskusstvo SSSR [Decorative Art of the USSR]. Moskva: Sovetskiy hudozhnik, 1980. No 9 (274). S. 35–37.
Belhrad D. Kultura spontannosti: Improvizaciya i mystecztvo v povoyennij Ameryci [Belgrade D. Culture of spontaneity: Improvisation and art in post-war America] / per. Z angl. Yu. Kazanovoyi. Kyyiv: Fakt, 2008. 528 s. (Ser. «Vysoka polycya»).
Veber M. Osnovnyie sotsiologicheskie ponyatiya [Weber M. Basic sociological concepts] / Izbrannyie proizvedeniya [Selected works]. Moskva: Progress, 1990. 808 s. (Sotsiologich. myisl Zapada).
Vysheslavskyj G. A., Sydor-Gibelynda O. V. Terminologiya suchasnogo mystecztva. Oznachennya, neologizmy, zhargonizmy suchasnogo vizualnogo mystecztva Ukrayiny [Vysheslavsky G. A., Sidor-Gibelinda O. Terminology of Contemporary Art. The notion, neologisms, jargon of modern visual arts of Ukraine]. Paryzh; Kyyiv: Terra incognita, 2010. 416 s.
Goldberg R. Iskusstvo performansa. Ot futurizma do nashih dney [Goldberg R. Art of performance. From futurism to our days]. Moskva: OOO «Ad Marginem Press», 2014. 320 s.
Zontag S. Xepening: mystecztvo radykalnogo zistavlennya (1962) [Sontag S. Happening: The Art of Radical Comparison (1962)] / Proty interpretaciyi ta inshi ese [Against Interpretation and Other Essays] / Per. Z angl. Viktora Dmytruka. Lviv: Kalvariya, 2006. 320 s.
Kaprou A. Prosto delat [Kaprow A. Just do] // Hudozhestvennyiy zhurnal [Art magazine]. Moskva, 2011. No 81. URL: http://moscowartmagazine.com/issue/16/article/222 (last accessed: 30.11.2018).
Kisin V. B. Rezhysura yak mystecztvo ta profesiya. [Kisin V. B Director as an art and profession]. Kn. 1. Yak vydovyshha porodyly rezhysuru: navch. vyd. [B. 1. How the sights gave birth to directing: educational edition]. Kyyiv: Naukovo-osvitnij centr «AELS-texnologiya», 1998. 104 s.
Klekovkin O. Homo Simultane: Narys pro lyudynu odnochasnu ta yiyi performansy, skoyeni i neskoyeni, yak u teatri, tak i poza jogo mezhamy [Klekkovin O. Homo Simultane: An essay about the person simultaneously and its performances, committed and unexpected, both in the theater and beyond] / In-t problem suchas. mystecz. NAM Ukrayiny. Kyyiv: Art Ekonomi, 2015. 144 s.
Kratkiy slovar po estetike: Kn. dlya uchitelya [A brief dictionary of aesthetics: Book for teacher] / pod red. d-ra filosofskih nauk prof. M. F. Ovsyannikova. Moskva: Prosveschenie, 1983. 224 s.
Sidor-Gibelinda O. Heppening [Sidor-Gibelinda O. Happening] / Alternativnaya kultura: Entsiklopediya [Alternative Culture: Encyclopedia] / [Sost. Dmitriy Desyaterik]. Ekaterinburg: Ultra. Kultura, 2005. 240 s.
Stanislavska K. Mysteczko-vydovyshhni formy suchasnoyi kultury: monografiya [Stanislavskaya K. The artistic and spectacular forms of modern culture: monograph] / vyd. druge, pererob. i dop. Kyyiv: NAKKKiM, 2016. 352 s.: il.
Hrenov N. Zrelischa v epohu vosstaniya mass [Khrenov N. Spectacles in the era of mass uprising]/ Gos. In-t iskusstvoznaniya M-va kulturyi i massovyih kommunikatsiy RF ; Nauchn. Sovet RAN «Istoriya mirovoy kulturyi» [State Institute of Art Studies of the Ministry of Culture and Mass Communications of the Russian Federation; Scientific Council of RAS «The history of world culture»]. Moskva: Nauka, 2006. 646 s. (Ser. «Iskusstvo v istoricheskoy dinamike kulturyi»).
Becker Jurgen und Vostell Wolf. Happening: Fluxus, Pop Art, Nouveau Realisme: eine Documentation/berausgegeben von. Hamburg: Rowohlt Verlag, 1965. 470 p.
Henri Adrian. Environments and Happenings (World of Art S.). London: Thames and Hudson, 1974. 216 p.
Inga-Pin Luciano. Performances. Happenings, actions, events, activities, installation. Padova: Mastrogiacomo Editore, 1978. 220 p.
Kaprow А. How to Make a Happening, 1966. URL: http://primaryinformation.org/files/allan-kaprow-how-to-make-a-happening.pdf (last accessed: 30.11.2018).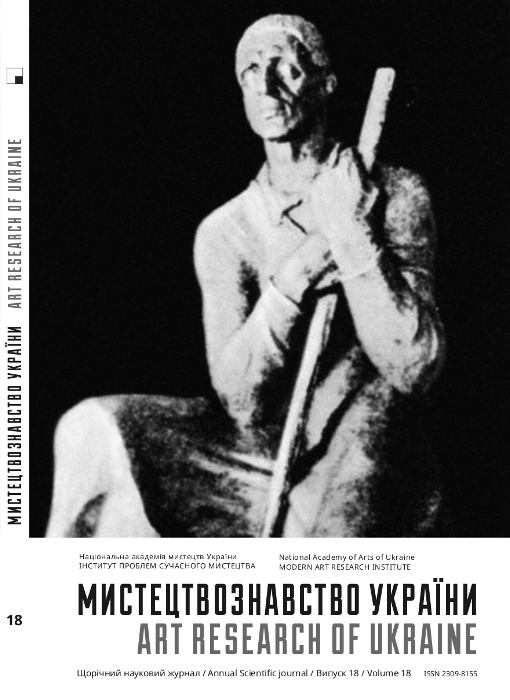 ##submission.downloads##