Кінематографічна спадщина українського режисера документальних фільмів Олексія Михайловича Шопіна
Ключові слова:
Олексій Шопін, кінематограф, Олександр Довженко, режисерський факультет, Київський державний інститут кінематографії, Київська кіностудія документальних фільмів «Укркінохроніка»
Анотація
У статті досліджені унікальний життєвий шлях і творча діяльність українського режисера документальних фільмів Олексія Михайловича Шопіна: навчання на режисерському факультеті Київського державного інституту кінематографії та в режисерській лабораторії Олександра Довженка на Київській кінофабриці, його творча робота в українському кінематографі як режисера-постановника документальних фільмів на Київській кіностудії документальних фільмів «Укркінохроніка»; наведено повний список його фільмів. Проаналізовано вплив Олександра Довженка на життя і творчу діяльність Олексія Шопіна.
Посилання
Arkhivno-slidcha sprava «Zorin Vasyl Yosypovych, Nikolaienko Oleksandr Trokhymovych, Ferents Teodozii Mykhailovych, Sasim Mykola Stanislavovych» [Archive case «Zorin Vasil Yosypovych, Nikolayenko Oleksandr Trokhimovich, Ferents Teodozii Mikhailovich, Sasim Mikola Stanislavovich» (1936)] // Tsentralnyi derzhavnyi arkhiv hromadskykh obiednan Ukrainy (TsDAHO Ukrainy) [Central State Archives of Public Associations of Ukraine (TsDAGO of Ukraine)]. F. 263: Kolektsiia pozasudovykh sprav reabilitovanykh. 1919–1953 [(F. 263: Collection of extrajudicial cases rehabilitated. 1919–1953)]. Op. 1. Spr. 58835.
Bezruchko O. Shopin Oleksii [Bezruchko, O. Shopin Oleksii] // Bezruchko O. V. Arkhivna spadshchyna Oleksandra Dovzhenka: Monohrafiia: U 10 t. [Bezruchko O. Archival heritage of Oleksandr Dovzhenko: In 10 volumes] / Kyiv. mizhnar. un-t. Kyiv: KyMU, 2012. T. 9. S. 43–82.
Goseiko L. Istoriia ukrainskoho kinematohrafa, 1896–1995 [Goseyko L. History of Ukrainian cinema, 1896–1995] / per. z fr. S. Dovhaniuk, L. Goseiko. Kyiv: Kino-Kolo, 2005. 461 s.
Dovzhenko O. Vystup na Kyivskii kinofabrytsi [Dovzhenko O. Speech at the Kyiv Film Factory] // Tsentralnyi derzhavnyi arkhiv-muzei literatury i mystetstv Ukrainy (TsDAMLM Ukrainy) [Central State Archive-Museum of Literature and Arts of Ukraine]. F. 690. Op. 4. Spr. 75: Pro rozvytok ta problemy radianskoi kinematohrafii na 1 zizdi TDRFK, 2 zizdi pysmennykiv SRSR, kinostudii «Mosfilm» ta in. ustanovakh. 14 sich. 1936–1946 rr. [(Case. 75: On the Development and Problems of Soviet Cinematography at the 1st Congress of the National Broadcasting Corporation, 2nd Congresses of USSR Writers, «Mosfilm» Film Studio and other establishments. 1936–1946).
Rozporiadzhennia po Uchbovomu kombinatu «Ukrainfilm» vid 28 veres. 1932 r. [[N.a.] The instruction on the Ukrainian Film Studio] // Tsentralnyi derzhavnyi arkhiv vyshchykh orhaniv vlady ta upravlinnia Ukrainy (TsDAVO Ukrainy) [Central State Archives of the Higher Authorities of Ukraine and the Government of Ukraine]. F. 1238: Derzhavnyi ukrainskyi trest kinopromyslovosti «Ukrainfilm» Derzhavnoho vsesoiuznoho kinofotoobiednannia «Soiuzkino» [F. 1238: State Ukrainian Trust of Cinema Industry «Ukrainfilm» of the State All-Union Film and Television Association «Soyuzkino»)]. Op. 1. Spr. 312: Dopovidni zapysky i vidomosti Kyivskoi kinofabryky pro okhoronu pratsi, tekhniku bezpeky, shtaty, limity po pratsi; navchalni plany i rozporiadzhennia uchbovoho kombinatu trestu «Ukrainfilm»; dohovory Kyivskoho kinoinstytutu z Shostkinskoiu fabrykoiu kinoplivky pro pidhotovku kadriv [Case. 312: Reports and information of the Kyiv Film Factory about labour protection, safety measures, staff, labor limits; Curricula and instructions of the training company of the trust «Ukrain-film»; Contracts of the Kyiv State Institute of Cinematography with the Shostkа Film Factory on training of personnel]. Ark. 282.
Trymbach S. Oleksandr Dovzhenko: zahybel bohiv: identyfikatsiia avtora v natsionalnomu chaso-prostori [Trymbach S. Oleksandr Dovzhenko: Death of gods: identification of the author in the national time-space]. Vinnytsia: HLOBUS-PRES, 2007. 800 s.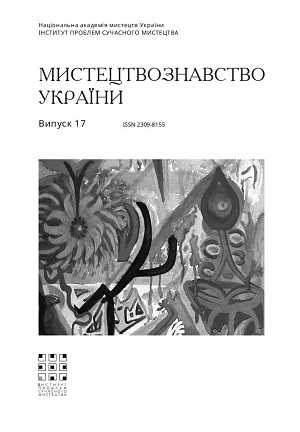 ##submission.downloads##