Музика другої половини ХХ — початку ХХІ століття. Концептуальність як ознака часу
Ключові слова:
концептуалізм, сучасна музика, композитор, музичний твір, концепт
Анотація
У статті здійснена спроба дослідити основні аспекти концептуалізму. Визначено специфіку його проявів в музичному мистецтві. Проаналізовано варіанти їх втілення у творах сучасних українських композиторів.
Посилання
Arthur R. Rose. Four Interviews // Arts Magazine. 1969. Vol. 43. No. 4. P. 23.
Apresyan A. R. Estetika Moskovskogo kontseptualizma: dis. ... kand. filos. nauk: 09.00.04 [Aesthetics of Moscow conceptualism: Candidate's thesis]. Moskva, 2001.
Bobrinskaya E. A. Kontseptualizm [Conceptualism] / Seriya: «Novoe iskusstvo XX veka» [New art of the 20th century series]. Moskva: Galart, 1994. 216 s. URL: http://conceptualism.letov.ru/Bobrinskaya-conceptualism.pdf (last accessed: 28.11.2017).
Gorbenko A. A. Muzyikalnyiy aspekt kontseptualnogo iskusstva [Musical aspect of conceptual art] // Artikult: Nauchnyiy elektronnyiy zhurnal [Art & cult: Electronic scientific journal]. 2016. No. 22 (iyun-sent.). S. 55–60.
Groys B. Moskovskiy kontseptualizm: 25 let spustya [Moscow conceptual art: 25 years later]. URL: http://www.conceptualism-moscow.org/page?id=1563 (last accessed: 25.08.2017).
Gulyanitskaya N. S. Muzyikalnaya kompozitsiya: modernizm, postmodernizm (istoriya, teoriya, praktika) [Musical composition: modernism, postmodernism (history, theory, practice)]. Moskva: Yazyiki slavyanskoy kulturyi, 2014. 368 s.
Istoriya zarubezhnoy muzyiki. XX vek: uchebnoe posobie / Sost. i obsch. red. N. A. Gavrilovoy [History of foreign music: 20th century: A guidebook / N. Gavrilova, ed.]. Moskva: Muzyika, 2007. 576 s.
Kompozitoryi o sovremennoy kompozitsii: Hrestomatiya / Sost. T. S. Kyuregyan, V. S. Tsenova [Composers on contemporary composition / T. Kyuregyan, V. Tsenova, eds.]. Moskva: Nauchno-izdatelskiy tsentr «Moskovskaya konservatoriya», 2009. 356 s.
Koshut Dzh. Iskusstvo posle filosofii [Art after philosophy] // Iskusstvoznanie [Art studies]. 2001. # 1. S. 545–563.
Levitt S. Paragrafyi o kontseptualnom iskusstve [Paragraphs on conceptual art] // Moscow art magazine. 2008. # 69 (noyabr). S. 1–6.
Logunova I. «Sama realnost prevratilas v produkt potrebleniya»: Kompozitor Vladimir Martyinov o zakate gomo sapiens i aktualnom iskusstve [«The very reality turned into a consumption product»: Composer Vladimir Martynov on decline of homo sapience and actual art]. URL: http://www.profile.ru/obsch/item/88710-sama-realnost-prevratilas-v-produkt-potrebleniya (last accessed: 28.11.2017).
Martyinov V. I. Zona posth, ili Rozhdenie novoy realnosti [The posth zone, or Birth of new reality]. Moskva: Klassika-XXI, 2005. 288 s.
Merhel A. Aktsionizm i ego raznovidnosti v kontekste ukrainskoy muzyikalnoy kulturyi rubezha XX–XXI vekov [Actionism and its varieties within Ukrainian musical culture of the turn of the 21st century] // Suchasna muzika v suchasnomu svItI: zb. nauk. prats [Contemporary music in contemporary world: Collected research papers]. Zhitomir: Vid-vo ZhDU Im. I. Franka, 2015. Vip. 4. S. 54–63.
Rakunova I. N. Novyie kompozitorskie tehnologii: Tvorchestvo Ally Zagaykevich [New composer's techniques: Art of Alla Zahaykevych]. Kiev: Feniks, 2010. 208 s.
Syl'vestrov V. V. Dochekatysya muzyky: Lektsiyi-besidy: Za materialamy zustrichey, orhanizovanykh S. Pilyutykovym [To wait until the music: Lectures-conversations: Proceedings of the meetings, organized by S. Pilutikov]. Kyyiv: Dukh i litera, 2011. 375 s.
Snitkova I. I. Muzyika idey i ideya muzyiki v russkom muzyikalnom kontseptualizme [Music of ideas and idea of music in Russian musical conceptulism] // Muzyikovedenie k nachalu veka: proshloe i nastoyaschee: Sb. trudov po materialam konf. 24–26 sentyabrya 2002 [Musical studies to the beginning of the century: the past and the present: Proceedings of the conference, September 24–26th, 2002]. Moskva: RAM im. Gnesinyih, 2002. S. 158–168.
Stanislavs'ka K. I. Performans — mystets'ko-vydovyshchna forma postmodernizmu [Performance as a artistically prectacular form of the postmodernism] // Visnyk Natsional'noyi akademiyi kerivnykh kadriv kul'tury i mystetstv [National Academy of Managerial Staff of Culture and Arts Herald]. Kyyiv: Milenium, 2010. #. 4. S. 96–100.
Tsepkolenko K. Formuvannya osobystosti studenta-kompozytora (osnovni pryntsypy metodyky navchannya v klasi z kompozytsiyi): Navch.-metod. posib. [Forming a personality of a studentcomposer (main principles of the teaching method in a composition class)] / Odes'ka. derzh. muz. akademiya im. A. V. Nezhdanovoyi. Odesa: Druk, 2008. 118 s.
Chepelenko K.O. Avtorefleksiya kak intentsiya kompozitorskogo muzyikovedeniya [Autoreflection as an intention of composer's music studies] // Vestnik Tomskogo gosudarstvennogo universiteta. Kulturologiya i iskusstvovedenie [Herald of the Tomsk State University. Studies of culture and art]. 2016. # 1 (21). S. 112–117.
Cherednichenko T. V. Tendentsii sovremennoy zapadnoy muzyikalnoy estetiki. K analizu metodologicheskih paradoksov nauki o muzyike [Trends of contemporary western musical aesthetics. On the analysis of methodological paradoxes of the music science]. Moskva: Muzyika, 1989. 223 s.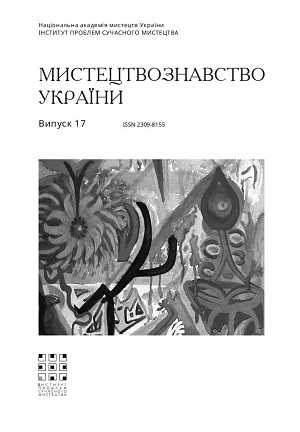 ##submission.downloads##